2/5/18   Just got a lovely email from one of our puppy families along with this photo of their beautiful "Faith". She will be 14 in May and is doing great. The snow, apparently, brings out her inner puppy!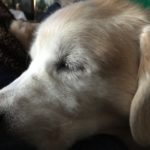 So happy that they have been blessed with this beautiful girl. She is a Kazaam x Gabby daughter.
Gunner and Kellogg had a great showing at the Golden Retriever National Specialty in September 2017, competing against some of the best dogs in the country! Gunner was 2nd in the Bred by Exhibitor dog class and Kellogg made the cut in Best of Breed- all before their 2nd birthday! Vegas also rocked the National, making it to the final cut of 6 in both her Sweepstakes and regular Veteran classes! She still loves to show and we had a great time being back in the ring together!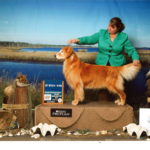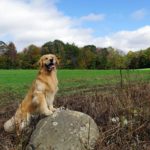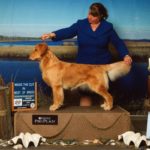 Tailor is a new Grand Champion! She earned a 5 point major under breeder judge Gloria Kerr at the VT shows on July 16. We are so proud of this beautiful and smart girl!
The Spring of 2017 has been pretty busy and the dogs are having a great time getting back into the ring after having some time off over the winter. Here is a quick update:
Tailor has picked up some very nice wins and now has 18 points, including all of her majors, toward her Grand Championship; Jordyn has also been wracking up some points mostly with her Jr handler Ruth at the helm and is currently up to 22 Grand Championship points. She just needs her last major. Gunner is close to singling out and is sitting on 8 Championship points and his sister Kellogg now has 5 points, including 1 major done. We will be taking some time off at the end of May and into early June but hope to be back on the road soon.
Jordyn won a huge Best of Breed in November 2016 at the Thanksgiving Cluster in Springfield, MA!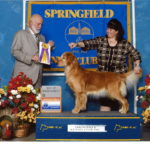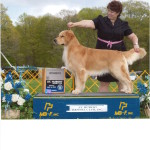 New Champion Heartstones Commotion on the Ocean,
a Chance (Ch. FoxRun's U Can't Beet This) son.