AKC Ch, U-Ch, NAKC INT'l Ch. FoxRun's Classic Lotto RN, NAP, NJP, CL1-R,CL1-G, CGC    
5/26/04 – 7/14/16
Cash wass a wonderful dog with exceptional breed type. He was a powerful mover with a strong, short body and a beautiful head piece. He had exemplary temperament and was a fantastic, eager worker. During his show career, Cash finished his UKC championship in 3 shows taking Group 1 every time in the ring. He earned his AKC championship in early 2008 and was the #1 ranked Golden in NAKC competition in 2007. Cash was also major pointed in Canada. Cash earned his rally obedience title in 3 consecutive shows. In the fall of 2008, at his first CPE agility trial, Cash got 3 qualifying scores toward his agility title. Cash was the type of versatile dog we strive for: excelling in conformation, obedience and agility. What more can we say about this phenomenal boy. We are so proud of him and will miss him and his goofy personality immensely.
---
U-CH FoxRun's She'll B A Classic RN- Shelby
May 26, 2004 – Nov 2014
A wonderfully happy and out going dog, Shelby was always clowning around. She loved to play ball and was always scurrying around to find one every time she went outside in the hopes that it would result in a good game of fetch. She loved to stir up trouble by barking at the squirrels or crows and getting all of the other dogs, just so she could laugh at them for barking at nothing. Nobody had a howl as good as Shelby. We will miss her greatly.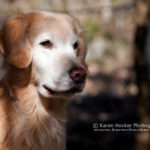 ________________________________________________________________________________________
U-CH FoxRun's Music of the Night OD – Lyric
May 20, 2003 – December 31, 2013
My beautiful red girl, Lyric was always the enforcer. She ruled the roost and kept everyone in line. She was a wonderful mother and friend. She hated the show ring but loved to ride around in the car – to the bank, to look at Christmas lights. She had to be sure everyone knew who the real boss in the house was. She was our first Outstanding Dam and has passed her amazing temperament down to her children and grand children. We will be hard pressed to ever have another dog as amazing as she was.
____________________________________________________________________________________
Beechwood's Passport to Adventure 6/10/01 – 8/15/12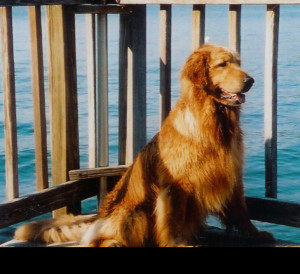 Rusty
On August 15, 2012 we had to say goodbye to our beloved Rusty. Many of you will remember him as the greeter when you came to visit your puppies- the dog that would bury his head between your knees so you could scratch his head. He was a wonderful companion and friend for over 11 years and we will always carry him in our hearts. Rest well my friend and run free in a body without pain.
---
Delight and Meri-Mors Forester CD, CGC, ASCA CDX
Ch. Merimor's Blazing Bullett CDX x Bayshore's Lorna Dune
March 21, 1994 – May 12, 2004
I'm sorry to have to report the loss of another great dog. On May 12, we let our wonderful old Forest cross the bridge and be free of a body that prevented him over the past year or so from doing what he loved best, running and retrieving. Although he wasn't a Golden, he was one of the best retrieving dogs to come through our door. And that goofy Aussie smile made him an instant hit with everyone he met. We used to joke that he didn't start to rest until he turned about 13 – he was a very active boy as a youngster! He was probably the dog who taught me the most about training and having a soft hand and I'm sure I will never have another dog like him in my lifetime. He was my loyal and loving companion for 15 years and I will miss him terribly. But I also celebrate the wonderfully full life that he had. Run free, old man, run free.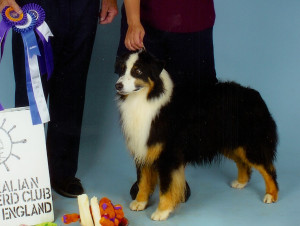 Forest
My first true obedience dog, Forest has taught me so much about dog training and handling. A wonderful dog with a soft personality, Forest made me work hard both in training and in competition. He is definitely a "mamma's boy" which made it hard for him to work any of the "away" exercises in Utility — but he sure did a beautiful job when training. He now spends his days lounging around the house and keeping all of those "nutty gold dogs" in line.
---
My Pretty Penny CD, CGC
Feb 10, 1993 – Feb 2, 2009
It is with great sadness that we let you all know that we had to let our wonderful Penny go on the evening of Feb 2, just 8 days short of her 16th birthday. She had been blessed with a very healthy life up until about the last 3 weeks, when her body began to fail her. In the end, it was a neurological problem that lead to her inability to walk and we made the decision to let her go. She will be very greatly missed and we will be eternally grateful for loyalty and love she gave us over the last 15+ years.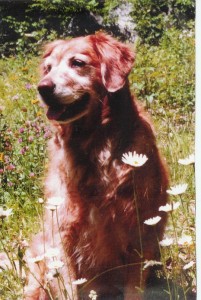 Penny
Penny came to me after I answered a "free to good home" ad in the local newspaper. I had grown up training in obedience and when I met her, I knew that she needed someone like me to straighten her out. Almost 16 years later, she's still letting me know that she is in charge and that I never had a chance. Penny has taught me so much about Goldens. She was the one who hooked me on this breed. In her retirement she has been content to take a ride in the front seat to the bank on Saturday morning or bounce around the yard with the young dogs. She has only recently begun to slow down, preferring to sleep a little later in the morning and just kind of lounge around the house. I will always be thankful that I brought this wild child home all those years ago.
---
Caymen's FoxRun Kisses to Go CD, CGC, ASCA CD
Ch. Nautilus Caymen's Friar Tuck x Karagold Caymen's Redi to Fly
July 28, 1999 – January 20, 2008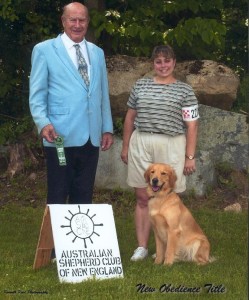 Gabby
Gabby's passing has been a very difficult one for me to deal with and I am still unable to write my complete tribute to her. She was an exceptional friend and mother. She will always be known to us as the "Dancing Queen." Hopefully I will come to grips with her passing and be able to tell more of her story. Those of you who have Gabby children know how special they are and what a special little lady she was. Give them all a hug from me.
---
U-Ch. Electralon Elusive Criminal CD, CGC, ASCA CD
Woodmyer's Felonious Assault CD, WC x Electralon Bold Inspiration CD, CGC, AX, OAJ, NAP, NJP, V-OAC, NJC, NGC
4/21/1997-10/13/2007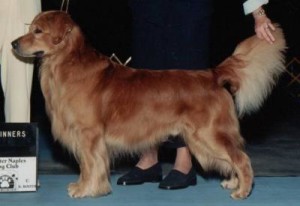 Jesse
When I first saw the pictures of your litter, you were like a little red jellybean in a pile of yellow ones. I was sure I didn't want the "red one," but of course, you were the one that picked me. From then on you were my faithful and loyal companion for ten and a half amazing years. A fast learner, you also learned quickly that I was easily manipulated and you have always used that to your advantage. Coming from a background in obedience, you were my first multipurpose dog. Did you love it? No. You did it because I asked you to, but I knew that you were happier sitting on the front porch, surveying your kingdom. You were the first dog that I competed in agility with, and although we never qualified together, it was exciting to watch you run for Nancy. I was always so proud of you. And its funny how everyone always thought you were so much bigger than you were. You had this commanding personality that earned you fans wherever you went.
As you grew older and assumed the alpha role in our pack, I thought that you were the most amazing boy. You ruled silently, but obviously effectively, as things were always so harmonious. I don't know what will happen now that you are gone. You've spoiled me. And of course, you produced the most wonderful children, who have now started to produce some amazing grandchildren. And I still can't believe that your influence was so strong that your children have inherited the "Jesse squish." I can't thank you enough for the legacy you have left behind. When I learned of your cancer and began to let people know, it broke the hearts of your many, many admirers. And it breaks my heart to have to say goodbye so early. I always thought that "The King" would live forever. Rest peacefully, my big red friend. Until we meet again.
---
BIS U-Ch. Caymen's FoxRun B'Yond Belief CGC
5/3/2000-11/2/2005
Indy
I hope that each of you that read this page will have a dog come into your life that was as special as my Indy. He was my heart dog, my best friend, there when I needed a warm, fuzzy shoulder to cry on or someone to make me laugh. On Nov 2, 2005, he was taken from me after a short battle with Lyme Nephritis, a disease which attacked and shut down his kidneys. I promised him that I would do everything I could to save him, but in the end it was my promise to not let him suffer, that forced me to let him go. He will remain in my heart and be a part of me forever. Indy was a dynamic young dog with exceptional temperament and exuberance. He was always happy and showed it through what I liked to call his "snake dance" — not just a wiggle, but a full body undulation. And he really loved to talk while doing the snake dance. His favorite past-times were chasing toys and snuggling on the bed next to me. He loved to help raise puppies and to ride in the trailer behind my dad's tractor. Every spring he would wallow in the mud hole that always forms in my yard from the water runoff of the mountain behind the house. He loved boating and feeling the breeze whip through his hair. When I'd go to shows and leave him behind he'd pee on my pillow to let me know how mad he was that I hadn't taken him. It was frustrating, but is one of the things that I will miss. Indy's wins included taking RWD to a 5 pt major at the Yankee GRC Specialty in 2002, as well as going Best in Show the same day he finished his UKC championship, which he finished in 3 consecutive shows. We were just hunting that last major to finish his AKC Championship. If we'd had more time together, I'm convinced he would have been my first MACH dog, as he truly loved and excelled at agility. His sweet, outgoing nature left him a trail of friends and admirers across the country. Rest peacefully my wonderful boy. I know we'll be together again one day.